Maintain Your Independence by Having a Walk-In Tub Installed in Your Frankfort, KY, Home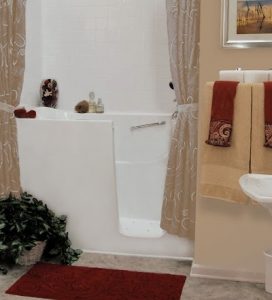 If bathing is becoming more difficult as you grow older and you're starting to become concerned about your safety in the bathroom, consider having a walk-in tub installed by Primax Compozit Home Systems. We offer top-of-the-line walk-in tubs manufactured by Nu-Bath that eliminate the stress of independent bathing for individuals in the Frankfort, Kentucky, area who are interested in aging in place.
About Primax Compozit Home Systems
Since 1982, we have been providing home improvement services to customers throughout the region. We're a family-owned and -operated company that is proud to have served more than 140,000 satisfied customers to date. What's more, our focus on ensuring customer satisfaction has helped us maintain an A+ rating with the Better Business Bureau for many years.
Our Walk-In Tubs
A walk-in tub from Nu-Bath offers top-of-the-line safety and comfort. Standard features include multi-function showerheads, low-entry thresholds, ergonomic grab bars, hydrotherapy jets, built-in seating, and more. You can also choose from upgrades such as a heated backrest or a high-speed drain. And, to ensure that your new tub fits the color scheme of your bathroom, you will be able to select from a variety of wall surround kits as well as your choice of faucet and fixture colors.
Once you've chosen your new tub, it will be installed with precision by Primax Compozit Home Systems employees – never subcontractors – and their work will be backed by a comprehensive labor warranty.
If you would like to schedule a consultation at your Frankfort-area home to learn more about the walk-in tub installations we offer, contact Primax Compozit Home Systems today. Financing plans with low monthly payments are available to those who qualify.