Acrylic Bathtubs Are a Convenient Option for Residents of the Louisville, KY, Area Who Want to Upgrade their Bathrooms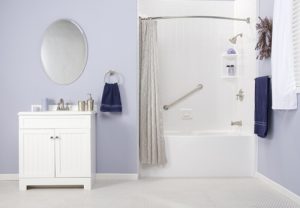 If you want to upgrade an old and outdated bathroom but don't want to deal with the expense and hassle of completely tearing out and replacing your tub or shower, a bathtub liner from Primax Compozit Home Systems might be exactly what you are looking for. We offer acrylic bathtub liners from Nu-Bath that fit over your existing tub or shower and can be installed in as little as a single day, providing you with a fast and economical upgrade option. More than 140,000 homeowners throughout the Louisville, Kentucky, area have trusted Primax Compozit Home Systems for their home remodeling needs since we first opened our doors in 1982, and we are proud that the high level of customer service we offer has allowed us to maintain an A+ rating with the Better Business Bureau for many years.
Why Choose an Acrylic Bathtub?
In addition to a more economical price and a smaller renovation project, there are additional advantages you will enjoy when you choose our Nu-Bath acrylic bathtub.
They include:
A 100-percent non-porous acrylic surface, which eliminates the need for heavy scrubbing or cleaning
The absence of grout lines that may need to be replaced
Added durability, as acrylic won't chip or crack like tile
Additionally, Primax Compozit Home Systems offers convenient financing plans to help make your bathroom remodel project even more affordable.
Contact Primax Compozit Home Systems today to learn more about the attractive and durable bathtub liners we offer to homeowners throughout the Louisville, KY, area.