Beautify Your Bathing Space with Our Simple Bathroom Remodel Solutions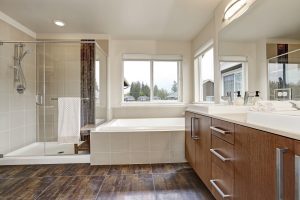 Bathroom remodeling projects are one of the most common types of home improvement projects among residents of Louisville, KY, and the surrounding areas. Many homeowners are looking for a cost-effective bathroom remodel option that will provide the comfort, safety, and beauty they desire. At Primax Compozit Home Systems, that's exactly what we offer. Our easy and convenient bath remodeling services can give your bathroom the facelift it needs so you can enjoy the space you deserve.
Convenient Bathroom Remodel Options for Your Home
At Primax Compozit Home Systems, we offer various bathroom remodel solutions to suit your needs and meet your goals. Designed to make the remodeling process stress-free for you, our convenient options include:
Nu-Bath Systems
Whether you'd like to convert a tub into a shower or would simply like to upgrade your existing bathing space, our Nu-Bath Systems are an ideal choice.  Plus, because your new acrylic surface is 100 percent non-porous, you won't have to worry about heavy scrubbing to keep your tub or shower looking like new.
Safe & Functional Walk-in Tubs
Primax Compozit Home Systems is proud to offer walk-in tub options from Nu-Bath. For individuals who are planning to age in place, have limited mobility, or would like to increase the safety of their bathing space, walk-in tubs are the perfect solution. Our safe and accessible tubs feature multi-functional showerheads, low-entry thresholds, built-in seating, and ergonomic grab bars and door latches. For enhanced comfort, these tubs also feature hydrotherapy air jets as well as aromatherapy and chromatherapy options that can make you feel like you're in a spa.
Turn to Primax Compozit Home Systems for Your Bathroom Remodel
To learn more about how we can upgrade your bathing space in as little as a single day, contact Primax Compozit Home Systems today. We proudly offer bathroom remodel solutions to homeowners in Louisville and throughout central Kentucky.