Patio Doors from Primax Compozit Home Systems Offer Unmatched Style & Durability to Paducah, KY, Homeowners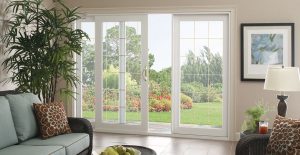 If your home's energy bills have been higher than they should be, your old and drafty patio doors might be part of the problem. Heat transfer can make a home's HVAC system work overtime to maintain a comfortable temperature, raising energy costs. If you live in the Paducah, Kentucky, area and want to replace your outdated patio doors, look to Primax Compozit Home Systems. We've served more than 140,000 satisfied customers since we opened our doors in 1982, and we offer some of the best patio door options on the market. What's more, we always put the needs of our customers first – a policy that has helped us maintain an A+ rating with the Better Business Bureau for many years.
Our Product Options
A factor that has helped us stand out from our competitors is the outstanding quality of the patio door options we offer. Our patio doors are manufactured locally and designed to provide exceptional durability and thermal performance. Our sliding doors are constructed of the same expanded polymer composites as our popular replacement windows and perform better than wood, vinyl, and fiberglass doors. We also offer hinged options for those who prefer the stylish look of French doors for their home.
Once you've selected the ideal patio doors for your home and chosen your preferred color, glass, and hardware options, our factory-trained technicians will ensure that they are installed perfectly.
If you would like to speak with one of our representatives about the patio doors we offer to homeowners in Paducah, KY, and neighboring cities, contact Primax Compozit Home Systems today. Financing options are available to qualified homeowners.