Handicap Bathtub Solutions for Homeowners Throughout the Louisville, KY, Area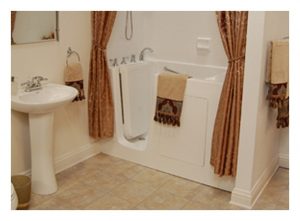 For individuals with mobility issues, whether due to aging or a handicap, bathing can often be a stressful experience. Traditional bathtubs are slippery and difficult to enter and exit, making a fall a constant concern. If you live in the Louisville, Kentucky, area and want to take the fear out of your bathing experience, let Primax Compozit Home Systems install a handicap bathtub in your home. We can provide a luxurious walk-in tub that will transform your experience so you can finally look forward to bathing.
Our Products
When you partner with Primax Compozit Home Systems, you will be able to choose the perfect handicap bathtub for your home from Nu-Bath, one of the leading names in accessible bathing. Your tub will feature a low-entry threshold for easy access, a multi-function showerhead, built-in seating, ergonomic grab bars, and much more. You will also be able to choose from upgrades such as a heated backrest, dual massage therapy features, a high-speed drain, and more.
About Primax Compozit Home Systems
We've been serving homeowners throughout the Louisville area since 1982 and are proud of our track record of excellence. We've successfully completed more than 140,000 projects to date, and our commitment to ensuring that our customers are completely satisfied has helped us maintain an A+ rating with the Better Business Bureau for many years. Contact us today if you'd like to learn more about the handicap bathtub options we can provide for your home. Financing options featuring low monthly payments are available to qualified homeowners.