Revitalize the Bathroom in Your Lexington, KY, Home with a Walk-In Shower from Primax Compozit Home Systems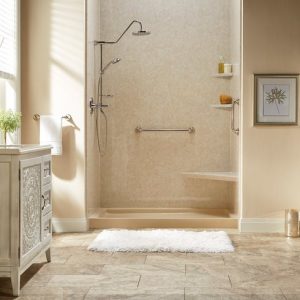 If you're tired of having to climb in and out of a slippery tub every time you want to take a shower, have a stylish walk-in shower installed in your Lexington, Kentucky, home by Primax Compozit Home Systems. We offer customizable showers that are the perfect choice for individuals with mobility issues who want to enjoy a safe and luxurious bathing experience. And, our trained technicians can install your new shower in as little as one day so you can start enjoying your revitalized bathroom as soon as possible.
Our Walk-In Shower Options
We offer Nu-Bath liner systems, which are a great option if you are upgrading an existing shower or converting a bathtub to a shower. Nu-Bath liners are an excellent choice because they:
Can be installed directly over the existing shower walls, saving time and reducing costs
Are constructed of nonporous materials and don't have grout lines, so cleaning is a breeze
Eliminate mold and mildew growth
Are available in solid and marbleized colors
Why Choose Primax Compozit Home Systems?
We've been helping residents of the Lexington area transform their homes since 1982, and we're proud to have served more than 140,000 customers to date. We're committed to providing outstanding products and service at a fair price, and that dedication has helped us maintain an A+ rating with the Better Business Bureau for many years.
If you would like to learn more about the walk-in shower installations we offer, contact Primax Compozit Home Systems today and we'll provide a no-obligation consultation at your home. Financing options are available.