Primax Compozit Home Systems Offers Walk-In Bathtub Installation to Homeowners in the Lexington, KY, Area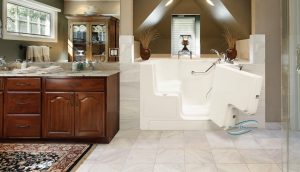 Whether it's an indulgence or a necessity, a walk-in bathtub can provide a safe and luxurious bathing experience. If you live in the Lexington, Kentucky, area and you are interested in having a walk-in tub installed in your home, look to Primax Compozit Home Systems. We have more than 35 years of home improvement experience and offer locally made products from top manufacturers so our customers can enjoy peace of mind about their investment. Additionally, we provide expert installations and stand behind them with a comprehensive labor warranty.
Our Product Offerings
At Primax Compozit Home Systems, we sell and install walk-in bathtub systems from Nu-Bath that offer the pinnacle in comfort and style. Nu-Bath manufactures industry-leading products and offers a wide array of standard safety and comfort features, including:
Low-entry thresholds and 17" high seats
A premium handshower
Angled grab bars
A high capacity faucet
You can also choose from upgrades and accessories such as a massage therapy system, a removable headrest, a heated backrest, a high-speed drain, and more. And, we offer a variety of HD wall surround kits and faucet and fixture color packages to make it easy for you to match your new tub to your bathroom's color scheme.
If you are interested in having a walk-in bathtub installed in your Lexington-area home, contact Primax Compozit Home Systems today to schedule a no-obligation consultation. Be sure to inquire about our convenient financing options, which are available to qualified homeowners.