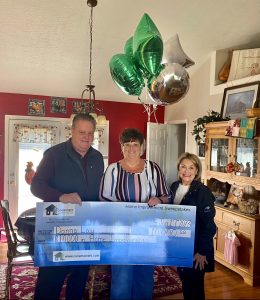 Meet Donna Lay!
Compozit Home Systems Windows and Doors organizes a sweepstakes giving one lucky homeowner a chance to win a $10,000.
LOUISVILLE, KY Not many people can tell you how it feels to win a sweepstakes for $10,000 in free CHS home improvements, but Donna Lay of Kentucky became one of the lucky few, as CHS announced the winner of the 3 month promotional Home Improvement Sweepstakes.
After filling out a Sweepstakes entry card at our WDRB Live Event, Donna Lay was chosen at random from among 26,000 entries from all over CHS Windows and Doors' service areas. Initially thinking she would never be one of those lucky people to win a contest, Lay was shocked, not to mention thrilled, to find the CHS Team waiting in her front yard as she opened up her front door.
Donna Lay and husband, were excited about the opportunity to make some improvements. After meeting with a CHS Product Consultant, Donna and her husband had already decided how to use their $10,000 in free home improvements. A new bath system was their home improvement of choice.
Donna told us "The bathroom is amazing and the installer was fantastic. I appreciate everyone so much. It has truly been a blessing to me and my family."